SHOW CAGE
The show cage of a Gloster canary is a boxed show cage, with a light green interior. The perches are to be three wires from the drinking hole on each side. You are to have plain canary seed in the bottom of the show cage and mixed canary seed in the food tray. It should be clean and contain no dirt. ( like the picture below)
TRAINING
Show cage traing for my glosters will start when they are about 5 weeks old. I will use a old show cage. I will start handling my bird so it get its confidence, then i will bring my bird into a noisy invoriment (house, kitchen ect) so they get use to noise and the surroundings of every day life. I also have a radio constantly on during the day.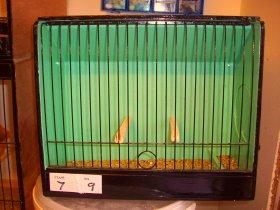 WHAT YOU SHOULD LOOK FOR IN A SHOW STANDARD
Head: CORONA: Neatness, Regular unbroken, rounded shape, eye discernible with definate centre.
Consort: Head broad, round at every point with a good rise over centre of skull. Heavy showing brow.
Body: Body well filled & winges laying. Full neck, chest nicely rounded without prominence.
Legs: Medium length, no blemishes
Plumage: Close, firm giving a clear cut, appearence of good quality & good natural colour.
Tail: Closely folded, well carried.
Carriage: Allert. quick & lively movement
condition: Heaith & cleanliness
Size: