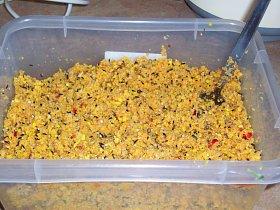 STAPLE DIET
The staple diet of my birds is a good mixed canary seed, i feed Country Wide premium Canary & Yellow biscuit. This is very clean and made up of good sized seeds - this is fed all year round. It as a mixture of canary seed, red rape, black rape, Linseed, Hempseed, Nigerseed, Yellow biscuit. I also give brocolli.
SOFT FOOD
My soft food mix is made up from cede egg food with canary conditioning tonic. which the birds really enjoy
OTHER FOOD STUFF
other foods are green foods such as broccolli, apple , spinach and kayle.
CONDITIONING FOR BREEDING SEASON
Canary conditioning seed is one of the things i give which is a mixture of black rape, niger seed, blue maw, heathseed mix (carrot, radish, cress, grass spinach, turnip, onion, blue maw, rape, perella brown, red and white millet, nigerseed) Hempseed, Linssed, Grass seed, golden pleasure, aniseed oil, and cod liver oil which you can purchase at your local pet shop.
I start giving this food in January, This is not fixed and will vary e.g i will give soft food maybe sunday then conditioning seed wednesday then greens on friday. I do this all the way through, up till march into breeding season.